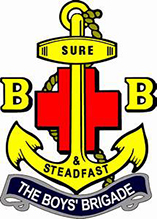 Boys's Brigade & Anchor Boys
We are one of the biggest Christian Youth Organisations in Ireland. We are committed to seeing lives enriched by supporting children and young people to reach their full potential by providing opportunities to meet together and engage in a range of fun and developmental activities and experiences.
There's something for every child and young person in The Boys' Brigade programme. Members develop skills, build confidence, make friends, take responsibility and are encouraged to make a real difference in their communities - sharing the values that make us who we are.
Our work with children and young people is made possible thanks to our volunteer leaders who give of their time so generously.
Visit the official Boys' Brigade website, or contact Captain Stephen Vincent 01 8903 892 or Audrey Ayres 087 6416 269 for more information.