Saint Columba's Church in Swords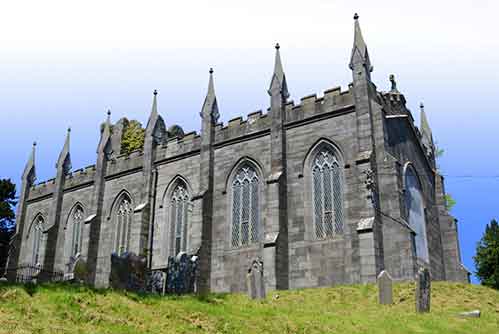 Saint Columba's Church in Swords is a Georgian building, on which construction began in 1811. It was designed by Francis Johnston, who designed many other buildings in Ireland, including the GPO on O'Connell Street. The church can seat about three hundred people. It has a Telford organ and the acoustics are amazing. The walls display monuments from some of the earlier churches and the windows hold some of the earliest stained glass in Ireland.
The church is probably at least the fourth in the same location, as it stands on a site that dates back more than a thousand years to the monastery founded here by Saint Columba circa 550 AD. The monastery was burned on ten separate occasions, often by invading Vikings and sometimes by warring Irish tribal leaders. The surviving monks always rebuilt. The monastery grew to be one of the most powerful in Ireland. In 1014, the monastery church waked the body of High King Brian Boru as his funeral cortege rested overnight on the way to his burial place in Armagh.
The complex around the church includes a Victorian Sexton's Lodge built in 1870, the square bell tower which was built circa 1400, and the round tower, which is the oldest. It's believed to be around 1,200 years old, or thereabouts, making it one of the oldest buildings in the country.
The church is on Church Road, Swords, some 150 metres or a two minute walk from the main street of Swords. Because the church and its towers are on a hill above the town centre, it is very easy to find from any point in Swords. Church services are normally held in Saint Columba's Church every Sunday morning at 11.30 a.m. but variations do occasionally happen, such as during the current pandemic, so please contact the Rector for details before making a long journey. Swords is served by bus route 41 and there's some free parking on the church grounds. Special services such as baptisms and weddings can be arranged by contacting the Rector.