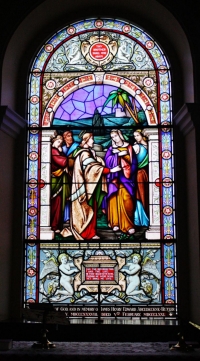 Contact Us
By telephone: For pastoral care, call the Rector, Reverend Neal Phair on 01 895 6747. During the Rector's summer holidays, August 12th to 23rd, call Reverend Norman Gamble on 01 845 4770 or 086 815 3277.The contact details for the ministry team, the school, the parish organisations, and other groups that use the hall are on the Who's Who page.
By post: Write to Saint Columba's Church, Church Road, Swords, County Dublin.
By email: Send an email to reachandrea@gmail.com.
In person: Feel free to have a chat with David, (the Archdeacon), Addy (the Lay Minister), Reverend Ken, or one of the churchwardens at any service. The churchwardens are the folks who welcome you into the church, hand you books or hymn sheets, and help out during the service. They'll be happy to assist you with your query.
Anonymously: Fill out the contact form.
Via social media: Friend us on Facebook or follow us on Twitter.