Saint Patrick's Church in Donabate
Saint Patrick's Church in Donabate, like our other churches, is centuries-old but built on an ecclesiastical site that is even more ancient. The first stone church was built here in the 13th century on a foundation that was even older. The only remnant of that first stone church, and the monastic community buildings that once existed around it, is the square tower, which served as the monastic community's watch tower and belfry. The church is dedicated to Saint Patrick, who is best known as one of the patron saints of Ireland. (The other two are Saint Columba and Saint Brigit.)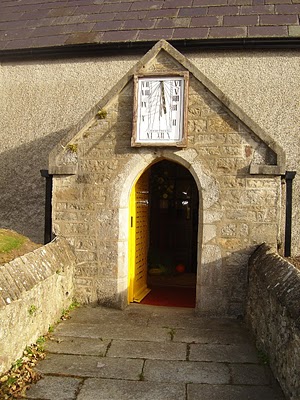 Today, a church that was built in the late 17th century and extended in the 18th century stands on the site. As you can see, one unusual feature of the present church is the sundial above the church door. The church building is large enough to seat just over a hundred people. It has ornate plasterwork ceilings, and fine brass and stone monuments, some of which, like the monument in the church porch which was carved in 1592, date back a long way. The newest part of the church is the East end, where the sanctuary is lit by a fine stained glass window. The Cobbe family, who built nearby Newbridge House, were the principal benefactors of the church. A pedestrian walkway links the church and Newbridge House through Newbridge House's parklands. A member of the clan became an archbishop and a stone monument to him dominates the North wall of the church.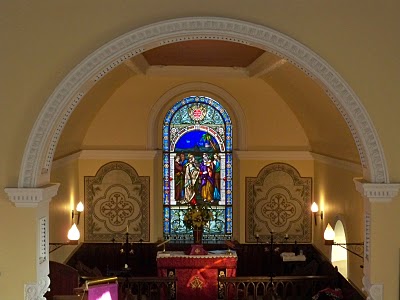 The Cobbe family used the tower attached to the North-East end of the church as their private crypt, although some of the more recent family members to pass away are buried in the churchyard. When the church was extended in the 18th century, the Cobbes had their own private pew constructed in the gallery at the West end of the church, and had the gallery's ceiling lavishly decorated in stucco plasterwork by the same Italian craftspeople who designed the elaborate ceilings of Newbridge House. The Cobbes' gallery had their own fireplace and comfortable seats, in contrast to the wooden benches that the ordinary parishioners used. The Cobbes used to have their servants provide them with refreshments during long sermons - allegedly!
Services for worship, and a special Sunday Club for children, take place here usually at 10 a.m. each Sunday morning. Variations occasionally occur, especially during the current pandemic. Please contact the Rector before making a special journey.
The church is on The Square, Church Road, Donabate, just 200 metres, or a three minute walk, from the centre of Donabate village. Buses serve Donabate village and the church is very close to the railway station. There's a small amount of free parking in the church square. Special services such as baptisms and weddings can be arranged by contacting the Rector.