The Rector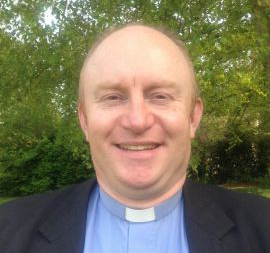 The Reverend Neal Phair, who was previously Rector of the Ballybay Group of Parishes in the Diocese of Clogher, was instituted on the 1st of May 2019. Neal is married. The couple have two children.
Prior to his current incumbency, Neal ministered in Oxford Diocese, was chaplain to the Dublin Institute of Technology, was Rector of Ballintowy, Dunseverick and Saint Thomas', Rathlin Island (Diocese of Connor), and served as Curate in Kilconriola and Ballyclug (also in Connor).
Prior to beginning to train for ordination, Neal was a teacher and taught in Saint Columba's College, in Rathdown School, and in the King's Hospital amongst others.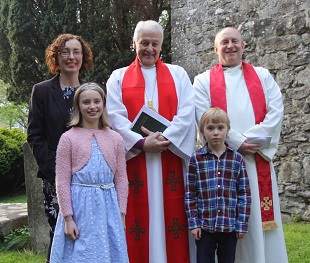 Neal has a keen interest in ecumenism. One of his main priorities in ministry is pastoral care and outreach to young families and young adults. He is also keen to reach out to all ages who are on the edge of the church or who are removed from it.
In his spare time, Neal enjoys acting, going to the theatre, and visiting art galleries. He plays piano and enjoys singing. He has a keen interest in rugby and more recently has taken up golf.
In the photo to the right, Reverend Neal Phair is on the right, accompanied by his wife, and their children, with Archbishop Michael Jackson in the centre.
Just prior to his institution, Neal wrote: "I very much relish the opportunity to minister in the parishes of Swords, Kilsallaghan and Donabate. These are significant, rapidly growing areas of North Dublin which include important commercial development and Dublin International Airport. I have acquired a huge amount of experience running parishes here in Ireland, North and South, and also in Oxford, as well as my time as a Chaplain in the Dublin Institute of Technology. I look forward to utilising this experience in leading the parishes forward, where the gifts, talents and faith of everyone are nurtured."
Read more
Contact the Rector